NEW Kit for 2016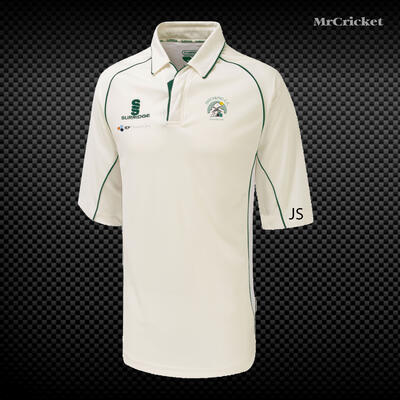 We have a full range of kit available for 2016. Junior and Senior cricket shirts, trousers and helmets. We even have a small range of leisure wear including polo shirts, shorts and hoodies.
To get to our Mr Cricket website please click here.
PASSWORD is DITCHLINGCC
Have a great season.
2016 Season is Underway!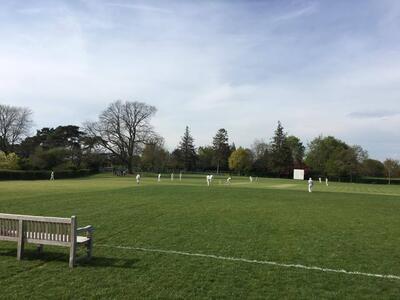 Naughty 2s (Average Age of 47)
The 2016 season got off to a winning start at Ditchling Rec as the naughty, but elderly, 2nd XI beat Pett CC.
With an average age of 47, Dad's Army showed that experience trumps youth at least once a season.
Easty, Shills, Spurr, DT, Chef, McMinn, Qam, Fordy, Hoppo, Rory L and Deano put on a noble 209 with DT and Fordy producing ove rhalf the runs and then Qam and Chef got 5 wickets each to win the match by over one hundred runs. A great way to start life at The Rec in 2016.
Roger Linn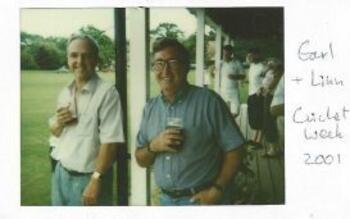 Earl and Linn, Presidents DCC
In Roger Linn, Ditchling cricket has lost another great stalwart. He was a man of character, humour and honour. A man, whose genial presence around the Club, will be greatly missed. Indeed his influence and contribution to Ditchling Rugby Club was also immense and village sport owes him a great deal. When I arrived and fell under the spell of Ditchling Cricket Club in the early 1980s, Roger was one of a (large) coterie of special characters who gave the place its charm. He was ever-present, engaged and always a positive force around the Club. And his attitude and laughter added great warmth to the place. Wherever you were standing in the Pavilion, you could always hear somewhere in the background that ridiculous, but thoroughly engaging snort of laughter of his. For me it was his humour that was one of Roger's great contributions to the Club. He loved an anecdote; he loved a funny story. He loved to laugh and did so much to create that special atmosphere that is DCC. With a pint of beer in his hand after the game surrounded by other cricket lovers, sharing stories, he was in his element.
But there was a more serious side to Roger – one driven by his strong sense of honour. For me, this was no better displayed than in what Roger did when the death of our great President, Lawrence Pepler, left such a massive chasm in the Club. Perhaps betraying his military heritage, Roger stepped into the breach. I think he did it as an act of support for his dear friend Lawrence (and to Penney too) and because he realised instinctively that the Club needed stability and leadership at that terrible time. I may be wrong, but I don't think Roger ever really wanted the kudos and trappings of being President of Ditchling Cricket Club. I think he did it out of his strong sense of duty, friendship and honour. Speaking personally, as the newly appointed Chairman at that time, the loss of my mentor and friend, Lawrence, was a body-blow. And the support and friendship of Roger in the months and years that followed was a huge source of strength to me. I will be forever grateful to him for that. And, finally, when his playing days were over, Roger contributed continued to bestow his blessings on the Club. I can think of two things in particular. First, after a long campaign, Roger finally delivered to the Club what, in my opinion, is still its most important fixture of the season – the Royal Navy game. Roger never made a big thing about his distinguished career in the Marines. But, I remember him dressed immaculately for the occasion of the Navy's first visit – and insisting that others did the same too! It was a great day. And when those two fighter jets screamed past right over that pitch, scraping the treetops by the stream as they went, it was simply sublime.
Secondly, Roger's writings. In his days working as an advertising executive in London, Roger contributed a hilarious, regular column to the Evening Argus under the heading "Commuter Tales". Latterly, he turned his pen to writing a series of charming articles for Sussex Living in which one particular cricket club "nestled under the Sussex Downs" seem to make an unduly frequent appearance! In these articles and in his various pieces for the Club's own programmes and other publicity, Roger showed his love of the Club by spreading the word about this special place to an audience spread around the whole county. Roger was a family man and his family are all part of the Cricket Club. So, as a Club, our love and support goes out to Liz, Charles, Richard and Becky at their time of sadness and loss. But Ditchling Cricket Club cherishes the memory of someone who was at the heart of so much that has been so great about this club (and the rugby club) for the last 40 years.
Rog's memorial service where we, and everyone who wishes to attend, intend on celebrating his life. We will be holding a service at Holy Trinity Church, Hurstpierpoint, on Friday 22nd January 2016 at 12pm. This will be followed by drinks at the New Inn, Hurstpierpoint. We would like people to wear what they choose, rather than black, and hope to have a colourful church. Also, if anyone wishes to make a donation to St Peter and St James Hospice in honour of Rog, they can do so at roger.linn.muchloved.com

Highlights of the John Broomfield charity match in 2013.